It is a legal requirement that employers provide workers with DOSH SIRIM safety boots.
That is why you should only choose from a local top DOSH SIRIM safety boots supplier – Boxter Global Sdn Bhd.
Why is DOSH SIRIM so important? Because for industrial settings, you need certified safety gear so you're protected from hazards.
So as a leading safety shoes brand in Malaysia, it is our duty to let you know of the importance of high quality safety shoes.
What are DOSH / JKKP standards?
The Department of Occupational Safety and Health has long since made it a requirement for workers to wear DOSH approved safety shoes.
Getting approval from DOSH Malaysia is not an easy task. To date, there are many requirements that must be met before safety boots are approved for work.
SIRIM Standards for Safety Shoes
SIRIM provides the service of quality management system, product certification and testing. They specialize in product compliance that meets the required standards, regulatory equirements and specifications.
Every type of safety shoes must go through an initial test along with a re-evaluation test every five years to meet compliance. Moreover, a surveillance test is also conducted yearly for the same reason.
The standards for safety footwear is labeled as MS ISO 20345 which tests several important parameters.
Refer Relevant Standard Using Testing Facilities in SIRIM QAS International
---
Impact Resistant DOSH SIRIM Safety Boots
Working around heavy equipment is hazardous in itself. Although safety precautions are in place, there is still a possibility of falling objects.
Along with a sturdy hard hat, workers need safety shoes that can withstand heavy impacts. 
Hence, you will need the best industrial safety shoes with a protective steel toe cap specially made by Boxter.
---
Abrasion Resistant DOSH SIRIM Safety Boots
Made from the finest safety shoes materials sourced locally and internationally, abrasion is no match for Boxter safety shoes SIRIM approved.
Until now, workers need to replace their work boots often due to the poor quality. So, Boxter solves this solution by using SIRIM certified materials that can handle the toughest conditions within a long time.
Suggested read: Foot Injuries and How Safety Shoes Prevent Them
---
Insulation of DOSH SIRIM Safety Shoe
After hours on end working in high temperature surroundings, your feet may start to feel uncomfortably warm.
Thus, workers exposed to heat must wear heat-safe work shoes to go by their day worry-free.
But not just any heat-safe shoes, choose Boxter's JKKP certified safety shoes that can endure high temperatures longer.
---
Corrosion Resistant DOSH SIRIM Safety Boots
Most workers are exposed to different kinds of chemicals which can damage a shoe's outer material. Eventually, this will injure the worker's feet.
This is the main reason Boxter has created the best lightweight safety shoes that stay intact even in corrosive environments.
---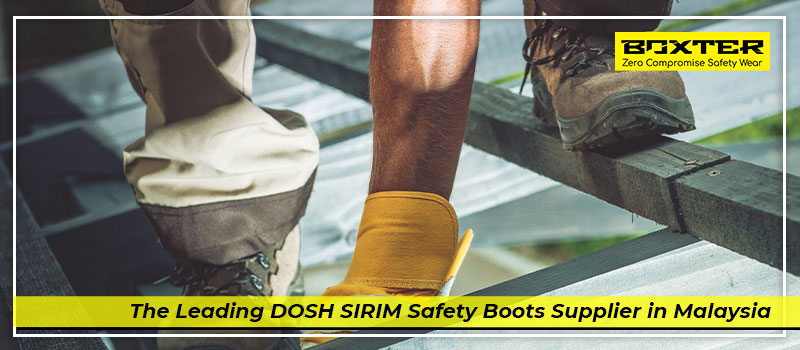 Puncture Resistant DOSH SIRIM Safety Boots
Heavy duty soles provide a thick exterior that can protect the feet from stepping on sharp objects. This applies especially for those working in construction where tools and items lay around.
Therefore, Boxter uses polyurethane (PU) as safety shoes outsoles. These SIRIM safety shoes are highly durable to withstand punctures and absorb impact as well.
---
DOSH SIRIM Safety Boots for Ultimate Safety
The main reason why DOSH SIRIM safety shoes are crucial is because safety is always a priority.
Before you make the decision to buy your worker's or yourself safety shoes, consider consulting the best safety shoes brand you can rely on.
Trust Boxter to provide you with the top safety shoes fully certified by SIRIM & DOSH standards. We've been supplying workers from various industries with our safety shoes for years!
Suggested read: Indestructible Features of Boxter Safety Shoes
Now all you need to do now is browse the different pairs of comfortable safety shoes that fit your work and your feet perfectly.
Need help ? Consultation is completely FREE!