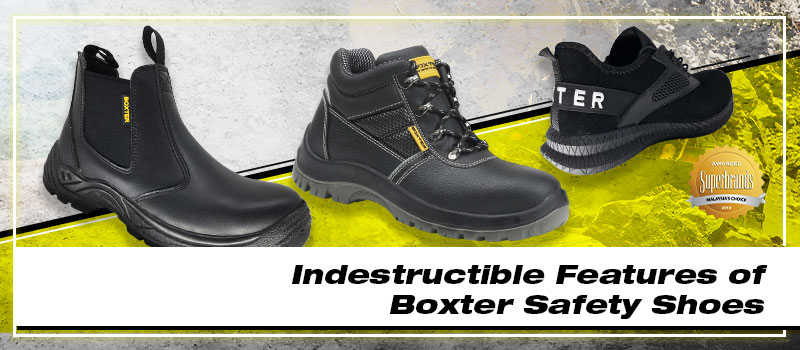 Boxter Safety Shoes Ideal for Industrial Workers
Boxter safety shoes are the leading lightweight shoes for heavyweight work
As a top safety boots supplier in Malaysia, we use only the best safety boots materials.
All our comfortable safety shoes (kasut keselamatan) increases productivity without compromising safety.
Refer to Malaysian OSH Regulations.
Thus, we are very proud of our top-selling safety boots. Here is why Boxter safety boots (but keselamatan) are indestructible against any work.
Indestructible Features of Boxter Safety Shoes
Boxter Steel Toe Cap Boots
Throw away your steel toe cover overshoe and upgrade your work boots with Boxter's steel toe boots.
Not only can steel toe work boots withstand 200 Joules of pressure. But they can also resist that amount of pressure with added force!
Most commonly, industrial workers face hazards of strong impacts and heavy equipment.
Hence, workers in such conditions must wear safety shoes with a protective steel toe cap.
---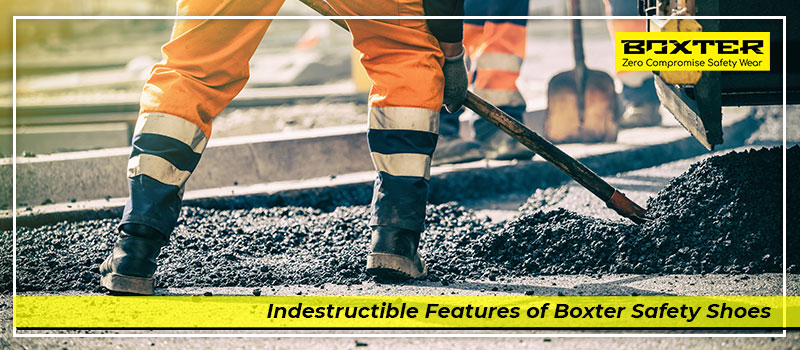 Heat Resistant Boxter Safety Boots
Most industries require workers to work under extreme conditions such as high heat.
So, the best safety shoes for high temperature is Boxter's heat resistant safety boots.
Moreover, Boxter uses fire-proof material to specifically prevent burns and injuries. These fire-proof safety boots are perfect for those extreme conditions.
---
Abrasion Resistant Boxter Shoes
Working in an industrial site requires constant movement around hazardous equipment.
Hence, workers need a pair of anti-abrasion safety shoes that are strong enough for wear and tear.
All in all, you must consider what could damage your worker's safety boots. So your workers will be more productive and efficient.
---
Boxter Lightweight Work Boots
As the leading lightweight safety shoe supplier in Malaysia, Boxter has mastered the art of safety shoes for ultimate comfort and safety.
Even with the steel toe cap, Boxter's lightweight safety boots are super light yet can withstand heavy work.
Consultation is completely FREE!
---
Anti-Corrosion Boxter Safety Shoes
Industries such as pharmaceuticals, petrochemical or water treatment have heavily corrosive work conditions.
Thus, these workers need protection against acids, alkalies, salts and corrosive substances.
So, by wearing Boxter corrosion-resistant safety boots, safety is all-round. Even in extreme corrosive work environments.
Suggested read: Top Reasons to Wear Safety Shoes for Factory Workers
---
Boxter Slip Resistant Work Shoes
Evidently, slip and fall accidents can happen at any time. Especially in slippery and greasy environments such as restaurants.
Therefore, slip resistant shoes are essential to prevent them from happening.
For this reason, Boxter's comfortable non slip shoes have slip resistant rubber out-soles. They have a superior grip when exposed to watery and oily surfaces. A fast-paced work environment needs such shoes.
---
Penetration Resistant Boxter Boots
Even an average person person might step on a sharp object which can puncture their shoe.
So imagine what industrial workers have to go through daily. They must wear anti-penetration work boots.
That is why Boxter's puncture resistant safety shoes have heavy duty soles with a thick exterior. It can protect feet against any punctures.
---
ESD Boxter Shoes
Excessive electric charges can severely harm workers if the right protection isn't worn.
Since feet is exposed to electricity, electrical resistance shoes must be worn..
Hence, if there is such risk, choose non-conductive Boxter Nubuck cow leather shoes.
---
Boxter's Waterproof Shoes
Industrial workers depend on their safety shoes for efficiency. Primarily, wet shoes during work will restrict movement and are very uncomfortable.
That is why Boxter made indestructible safety shoes that are waterproof and leakproof.
Also, Boxter provides low-cut to high-cut safety boots for that extra protection if you need it.
---
Work Better with Safety Boots by Boxter
Boxter safety shoes have all the qualities an industrial worksite demands.
As a certified DOSH-SIRIM safety shoe manufacturer, Boxter is the top choice. Especially for employers looking for the best lightweight work boots for workers. They deserve the best!
Need help choosing which protective work shoe will suit your workers? Contact our attentive sales team for the best option for wholesale shoe suppliers.
Boxter provides a selection of trendy wholesale shoes perfect for your workers.
Suggested read: 10 Types of Safety Shoes that Protect your Workers
Consultation is completely FREE!