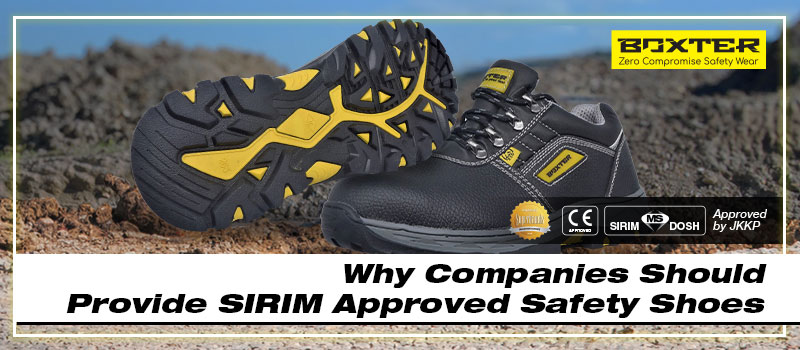 SIRIM approved safety shoes are one type of PPE employers must provide and pay for.
As stated by the Department of Occupational Safety and Health (DOSH), companies are responsible to provide physical protection to their workers.
Clearly, the government intends to fully protect laborers from the many hazards at a workplace.
So, here's what you need to know about why companies in Malaysia should provide and pay for SIRIM approved safety shoes.
Responsibility of companies
Without a doubt, workers must wear safety footwear to avoid potential occupational hazards.
However, employers have a greater responsibility when it comes to providing and purchasing safety boots for workers.
Firstly, perform a hazard assessment to identify hazards
Provide SIRIM approved safety footwear for employees
Training workers to use and care for safety shoes
Replace protective footwear when worn or damaged
Consistently review the effectiveness off safety program
Nonetheless, workers should always properly wear the given safety shoes, attend training sessions, care for and maintain safety boots and inform a supervisor to replace safety footwear. 
Suggested read: Easy Tips to Take Care of your Safety Footwear
---
Employers Must Pay for DOSH SIRIM Safety Shoes
In recent years, DOSH Malaysia requires employers to pay for worker's safety shoes that comply with DOSH standards.
Also, workers are not required to provide their own safety boots but their choice to wear their own gear must be voluntary.
Moreover, whenever a worker wears their own work boots, employers are obligated to make sure it is sufficient to protect the worker from potential hazards. 
---
Other PPE that Employers Must Provide
Surely, workers need more than DOSH SIRIM safety boots to stay protected when working heavy tasks.
These include:
Eye protection
Hard hats
Hearing protection
Welding PPE
As an employer, it is your duty to know the exact protective gear your workers need based on the thorough hazard assessment of the workplace.
Only then will workers become more productive and taken care of when working long hours in a dangerous environment.
---
Provide SIRIM Approved Safety Shoes
Your worker's safety should be your company's top priority 
However, some employers are more concerned of the price and settle with low quality safety boots.
By risking your worker's health and welfare, you are also risking your company's reputation.
Hence, provide your hardworking employees with the most durable safety shoes  for the best performance and quality.
So, get DOSH SIRIM certified footwear from a top grade safety shoes supplier-Boxter!
Suggested read: The Complete Guide to DOSH SIRIM Safety Shoes
Consultation is completely FREE!