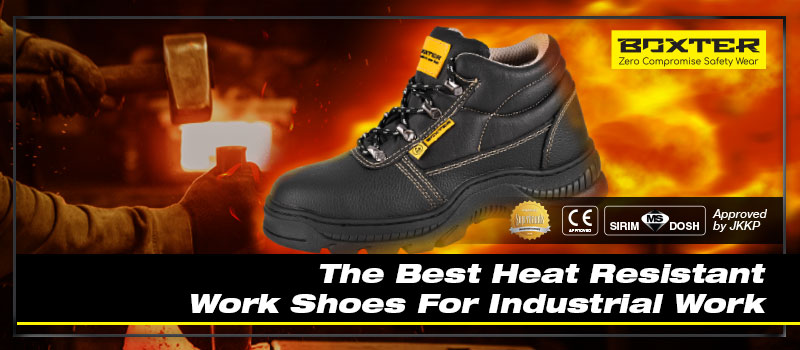 Heat resistant work shoes are a must for your workers.
This safety feature will keep the feet cool, allowing your workers to work longer without being sore or blistered from prolonged heat exposure.
Oftentimes, employers are not aware of the dangers a working environment poses to workers as well as the associated risks that come with it.
So, to avoid the risk of heat-related injuries, provide your workers with heat resistant work shoes.
---
Heat Resistant Work Shoes: What They Do?
Heat resistant safety boots are built to withstand high temperatures (up to 300° Celcius)
They protect the feet from burns due to extreme heat.
Besides, good heat resistant safety shoes also prevent excessive sweating, which can cause blisters and other skin issues.
Hence, as an employer, you must protect your workers by providing them with the best thermal protection footwear.
Here is more explanation of why you should consider purchasing heat resistant footwear for your employees:
To prevent accidental burns or injuries due to hot surfaces
Many industrial accidents occur when workers get burned by hot surfaces such as molten metal or machinery parts.
These injuries can range from minor burns on your skin to serious third-degree burns that require hospitalization and skin grafting procedures.
Heat resistant boots will protect you from accidental burns by providing an extra layer of protection between the feet and hot surfaces.
To protect against electrical hazards such as arc flash
When working in an industrial setting, you need to be able to rely on your safety shoes to protect against electrical hazards such as arc flash.
And that is where the heat resistant work shoes come in.
These shoes are made from a special material.
The material is highly resistant to heat and fire, making them ideal for work environments where sparks may fly.
To protect against flammable chemicals
Heat resistant work shoes protect against flammable chemicals that may be present in the work environment.
This is especially important if your workers work around solvents or other substances that can catch fire.
So, if you are working with any dangerous chemical, it's important to wear heat-resistant safety shoes.
---
What are the Best Heat Resistant Work Shoes?
Boxter Fireproof HeatGuard+ safety shoes are a great choice for workers who work in an environment that expose them to extreme heat.
The safety shoe is made from a highly resistant fabric that can withstand temperatures up to 300° Celcius.
This makes it perfect for welders, mechanics, and other people who work in high-temperature environments daily.
Furthermore, the shoes have an abrasion-resistant PU outsole with 360° stitching for added durability.
They also come with steel toes that provide extra protection against impact injuries.
Besides, the shoes also feature an ergonomic design that provides plenty of room for your toes.
This makes them comfortable enough to wear all day long without any problems!
So, if you want a pair of safety shoes that will protect your feet from extreme temperatures while still being comfortable enough to wear all day long, then the Fireproof HeatGuard+ safety shoes are a perfect choice!
Boxter Safety Shoes with HeatGuard+
---
Upgrade to HeatGuard+ Heat Resistant Work Shoes for Your Workers!
Safety should always be the main concern when working in the industrial setting.
As such, having the right work shoes with relevant safety features, such as heat protection is important.
Boxter safety shoes meet or exceed all safety requirements without a doubt.
We have everything you need, whether you need heat resistant safety shoes, anti-slip safety boots, ESD protection safety footwear, or lightweight safety shoes.
Need more information on our HeatGuard+ heat resistant safety shoes or other models of safety shoes?
Feel free to contact us and get a FREE consultation!
Also read: Ways To Take Care Of Your ESD Safety Boots (100% Helpful!)
Do not hesitate to contact us for bulk orders or individual orders. We are more than happy to assist you.
---