Complete Features of DOSH SIRIM Certified Safety Shoes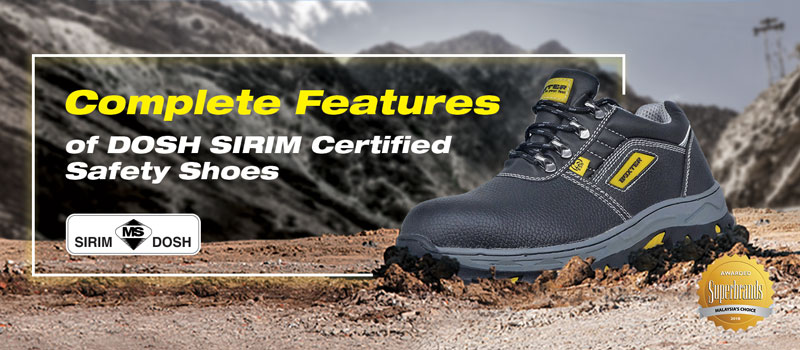 Employers must always ensure their worker's put their best foot forward.

The Malaysian OSH regulations requires all construction employers to provide DOSH SIRIM certified safety shoes.
Failure to do so may lead to legal issues that can detriment your company.
Here are the features of DOSH SIRIM safety shoes that best suit your workers on a daily basis.
What are the DOSH Safety Shoe Requirements?
The Department of Safety and Health (DOSH) has emphasized that safety boots must protect workers from impacts, punctures or electrical hazards.
DOSH-approved shoes must be certified by the Standard and Industrial Research Institute of Malaysia (SIRIM) Berhad.
---
Steel Toe Boots for Impact Resistance
A common cause of injury especially in construction, manufacturing, auto repair and warehouses is due to heavy impact.
Hence, workers in such conditions must be provided with safety shoes equipped with a protective steel toe cap.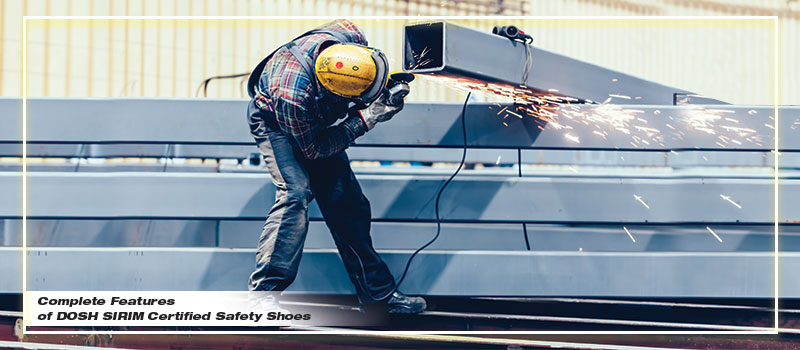 ---
Compression Resistance for Indestructible Shoe
Some working conditions have instances where the feet are crushed due to heavy objects rolling.
Without a steel toe cap that can withstand pressure, you can say goodbye to your toes and your job.
---
Flexing Resistance of Safety Shoes
It is important that the material of the safety shoe is made out of good quality leather or fabric.
The material should be able to flex without tear within long periods of time under exposure.
---
Safety Boots with Abrasion Resistance
Another feature of the safety shoe material is its resistance to abrasion. Workers are more secure wearing shoes that won't rupture easily.
High performance abrasion resistance is provided to prevent material or volume loss.
Need help ? Consultation is completely FREE!
---
Thermal Insulation of Work Boots
Work sites such as welding, construction and machine operations are prone to high temperatures.
Without a pair of good insulators of heat safety boots, workers' feet will be compromised to heat.
---
Safety Shoes with Corrosion Resistance
In some instances, workers are exposed to acids, alkalies, salts and corrosive gases.
Thus, workers in this type of work site must be prepped with high performance corrosion resistance safety shoes that can withstand such chemicals.
---
Penetration Resistance of Safety Boots
When buying safety footwear for your workers, take into account heavy duty soles and thick material exterior for better feet protection.
Polyurethane (PU) profiled outsoles are the best type to prevent traction and absorb impact.
Need help ? Consultation is completely FREE!
---
ESD Shoes
Electric shocks can severely harm your workers. Since the feet area is one of the most exposed to electricity, electrical resistance shoes must be worn.
If your environment has a high risk of electrical accidents, opt for cow leather shoes which are non-conductive.
---
Shock Absorption of Work Shoes
The non-conductivity of cow leather shoes also helps in mitigating the shock caused by excessive kinetic energy from the feet.
Energy absorbing shoes can safely contain the amount of kinetic energy absorbed through the feet and prevent it from spreading throughout the body.
---
Watertight Shoes
Any pair of good quality shoes should be leakproof. Especially for industrial workers who depend on their safety shoes for their efficiency.
DOSH-SIRIM carefully inspects the bonding of materials supporting the safety shoe so that they have little to no possibility of leakage.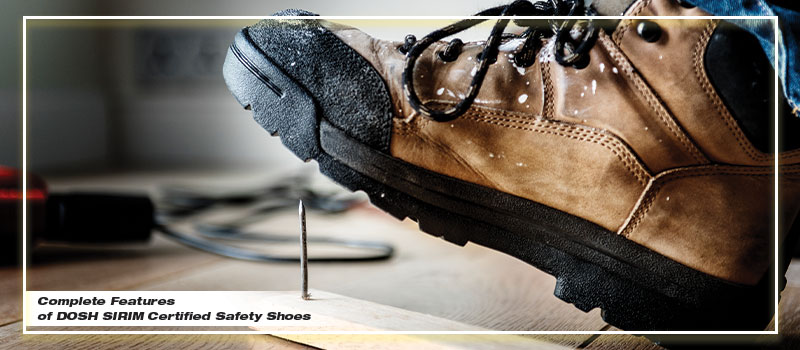 ---
Safety Boots with Oil Resistance
Some workers may be exposed to oils which can seep into poor quality shoes and harm workers' feet.
For workers in such circumstances, employers must prepare safety shoes that are oil resistant so workers can do their job comfortably.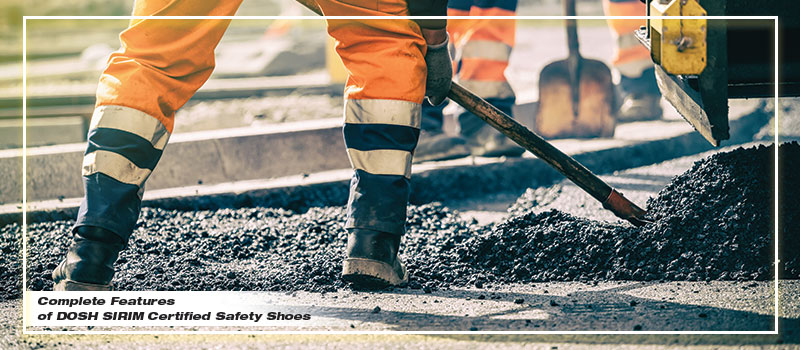 ---
Choose wisely
Prioritizing workers' well being and general health is a top responsibility of employers.
Take note on the different aspects of the work site to fit with the choice of safety shoes since there is a wide variety of them in the market.
Once you've done the hazard assessment, contact a DOSH-SIRIM certified safety shoe manufacturer to order in bulk.
Search no further than Boxter!
Need help ? Consultation is completely FREE!