Buy from a certified safety shoes supplier for DOSH SIRIM safety shoes.
With that said, always buy from a safety shoes supplier instead of shopping for safety shoes at an uncertified online store.
However, some employers have a hard time looking for affordable yet comfortable safety shoes for their workers. Especially for those working in heavy industries.
Hence, it is highly recommended to purchase high quality safety shoes from a DOSH certified safety shoes brand in Malaysia. 
Here's how you can decide on the best safety shoes supplier that ticks all your boxes. 
Guide to Choose a Safety Boots Supplier in Malaysia
DOSH approved PPE is crucial for any workplace, particularly safety boots. So, investing in JKKP certified safety shoes from safety boots suppliers can protect you in the long run.
Quality of Safety Shoes
All safety shoes must be tested by a government accredited body which in Malaysia is SIRIM QAS International.
Thus, employers should ensure workers shoes are made by a work shoes supplier that are SIRIM certified.
Moreover, it is important to note that DOSH SIRIM safety shoes have met the strict requirements so workers are safe from potential hazards.
This mainly includes ESD safety shoes, heat resistant safety boots, waterproof safety boots and puncture resistant shoes.
---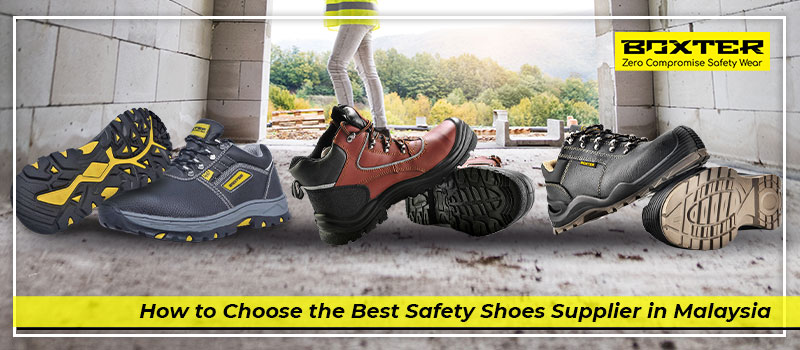 Affordable Pricing by Safety Shoes Brand
Although quality is a top priority, employers are not all that convinced unless the working shoes supplier offers a bulk order of safety shoes within their budget.
It is the first question we usually get before every purchase and understandably so.
However, it is best to remember that the price reflects the quality of a lightweight safety shoe.
More often than most, a RM50 safety shoe will never as durable as a RM150 safety boots.
So, rather than buying cheap safety shoes, consider the cost-efficiency of a quality pair of safety shoes. They require less repairs and replacement in a short time.
In future, you will actually save more when you buy cost for value from a industrial footwear supplier.
---
Supplier Location
There are many international safety shoes suppliers such as Caterpillar, Black Hammer and Safety Jogger safety shoes.
Although they may be well-known, choosing a non-local safety boots manufacturer has its disadvantages.
First, it is challenging to inquire for customer service due to the distance and different time zones. Thus, it is much easier to choose a safety boots manufacturer near you if you want quick delivery, replacements or service.
In addition, it is always a good idea to support trusted local businesses that make quality safety shoes until they are known globally.
Suggested read: Guidelines for Safety Shoes DOSH Approval in Malaysia  
---
Great Customer Service
A business is nothing without its customers. However, not every business values its customers. Some are friendly to convince buyers but ignore them after the purchase is done.
Although you may feel customer service is the least of your worries, you may face issues that only the manufacturer's customer service can solve.
Hence, it is recommended to read previous customer's reviews on the safety boots supplier's customer service and how they handle different situations.
In the end, it will definitely benefit you to find a reliable safety shoes supplier even after you have made a purchase with them.
---
The Best Safety Shoes Supplier in Malaysia
Choose the best safety boots supplier in Malaysia to protect your workers
All in all, choosing the best pair of safety shoes for your workers is just as important as choosing the best safety shoes brand.
Your search ends here! Boxter Footwear has the experience and skills as an ultra light safety shoes supplier fully certified by DOSH & SIRIM with the best safety shoes materials.
We have provided workers with our high quality lightweight safety shoes from various industries.
Suggested read: The Most Lightweight Safety Shoes in 2020
Need help ? Consultation is completely FREE!