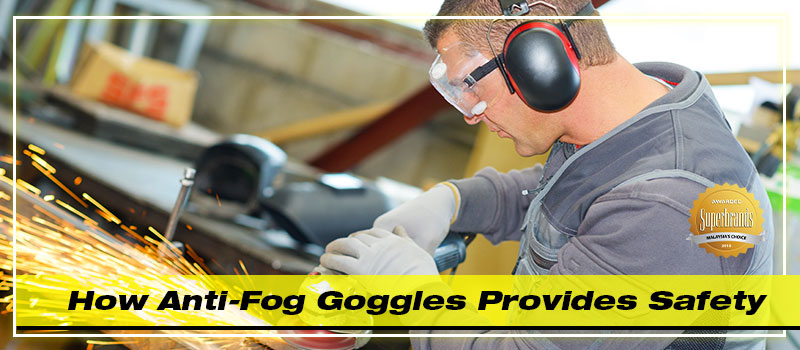 Most worksites have temperature changes which requires workers to wear anti-fog goggles.
Safety eyewear can fog when the surrounding air is warmer than the lenses. Thus, condensation is formed, impairing vision.
In some cases, when the worker sweats while wearing spectacles, fogging can also occur due to the humidity of the trapped air. Especially workers in full body PPE.
As a result, workers neglect their safety goggles. However, a solution to their problem can be solved by wearing fog resistant goggles. 
5 reasons workers
should wear anti-fog goggles
Reduce Fogging
It is important to do a hazard analysis for the sake of the workers. On top of that, employers must match the hazard with suitable PPE.
Eye gear with no fog resistance properties will fog easily. That is why many workers opt to not wear them at all due to their impaired vision.
However, safety eye wear must be worn at all times, especially in the presence of debris, fragments and hazardous chemicals.
By wearing anti-fog spectacles built for such risks, workers are more productive without the feeling of discomfort.
Suggested read: How to Prevent Hazards with PPE
---
Anti-fog Glasses Increase Visibility
Vision should never be compromised. In a place where risks are at every corner, it demands vision.
Hence, anti-fog glasses were created to increase visibility. By using anti-fog lenses with added ventilation, fogging eye wear can finally be a thing of the past.
Due to a clearer vision, workers can quickly react to tasks without fearing any visual loss.
---
Combat Heat & Humidity with Goggles
Heat and humidity can cause condensation. On the other hand, excessive heat can also cause the worker to perspire which causes extra moisture. 
Thus their safety goggles will fog up within minutes. Worksites such as construction, wood industry, power plants and welding warehouses demand anti-fog eye wear. 
One of the reasons is because anti-fog goggles have fog resistant coating that can combat any moisture from forming.
Suggested read: How to Choose the Right PPE
---
Anti-fog to Environmental Changes
In some cases, workers may alternate between places of varying temperature changes. Hence, without a pair of glasses with fog resistance, fogging is bound to occur.
Workers that are prone to environmental changes include food stuff workers, going in and out of a warehouse or first responders.
Not only do anti-fog safety goggles have ventilation valves, they are made with CE EN 166 Approved PC Lens. This can protect the workers from splashes and solid impacts safely.
Need help ? Consultation is completely FREE!
---
Improve Efficiency with Anti-fog Eye Wear
The four features above and full compliance of this anti-fog PPE will certainly improve worker's efficiency and productivity.
Thus, employers who want to avoid downtime or any legal issues must necessitate fog-resistant safety eye wear for the safety of all parties.
Refer: Malaysian OSH Regulations.
By eliminating problems of non-compliance and impaired vision, workers can wear their designated safety eye gear comfortably. Therefore their performance increases to its full potential.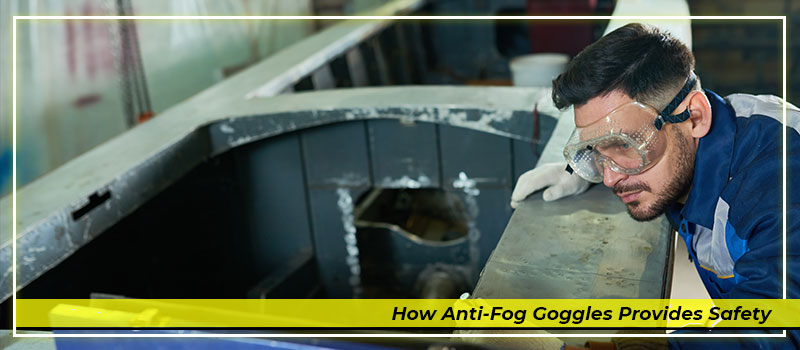 ---
Anti-fog Safety Goggles for your workers
Never neglect the safety of your workers and they won't neglect their tasks
Eye injury may seem a small matter but vision impairment is one of the risks it entails. Therefore, equip your workers with protective eye gear designed with fog resistant technology.
Can't wait to gear your workers with safety? Ready-stock anti-fog safety goggles are easily available right here!
Consultation is completely FREE!