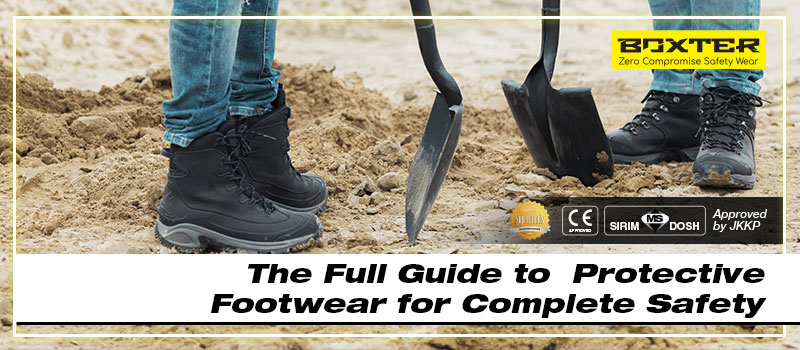 When preparing for work, workers must wear the protective footwear before starting their day.
Because without the proper gear, workers are at risk to many hazards that can lead to injuries or worse, death.
So, follow this guide to protective footwear safety tips so you are completely protected from work dangers.
Safety Shoes Safety Tips
Wearing the right safety shoes is essential for a safer working environment.
That's why DOSH Malaysia has set stringent rules on wearing JKKP approved safety boots. 
Not only that, here are some other guidelines you must follow relating to safety shoes.
---
How Protective Footwear Protects Workers
There are many ways safety shoes protect workers even in the harshest conditions.
Mainly, it is because safety boots go through strict safety analysis to make sure each pair can withstand various work hazards.
---
What are the Best Safety Shoes for Work?
Generally, work boots come in many functions, materials and styles. Nonetheless, they have one thing in common which is providing safety.
Thus, it is important to know which type of safety footwear best suits the job.
---
Hazard Assessment for Safety Shoes
Generally, a hazard assessment is a must for every worksite to ensure all potential risks are avoided.
Because safety shoes are a crucial PPE at most worksites, it is doubly important to assess the hazards relating to foot injury. 
---
Choose the Best Protective Footwear Brand
Last but not least, we suggest buying protective footwear straight from a safety shoes supplier. 
Certainly, a safety boots supplier can advise you to choose the best pair of safety shoes for your work conditions.
Boxter makes the No.1 safety shoes that are super strong yet surprisingly comfortable and lightweight!
Consultation is completely FREE!